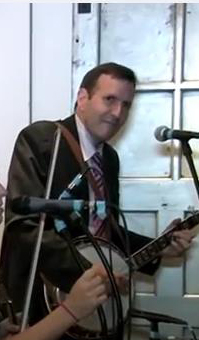 John Brunschwyler
Banjo
John Brunschwyler began playing classical violin at early age and began learning bluegrass banjo as a teenager. John began listening to the local Washington DC bluegrass station and seeking out local live performances during his formative years of bluegrass.
Direct influences include the historic greats such as Porter Church as well as contemporary greats such as Sammy Shelor, Alan Munde, and Maryland's own Mike Munford.
John is a DC native, born in the District and seems destined to die in DC as well. Growing up in the DC area, he was able to see the early career of Johnson Mountain Boys, play a gig with Buzz Busby, hang out on Saturdays watching Porter Church playing with Appalachian Reign, and see numerous bluegrass players cycle through the local DC area venues such as the Friendly Inn, Cactus Flats, Partners II, and the Birchmere.
In addition to Rattlesnake Hill, Johnsí musical resume includes playing with Dave Norris and Friends, DeSoto, Maryland Ramblers, Capitol Grass, Badly Bent, Smoke Creek Rounders, By & By, and Patuxent Partners.
John's style of banjo playing, while rooted in Scruggs, reflects many elements of these other banjo greats. His interest in music ranges from composers such as Antonio Carlos Jobim to Red Allen and anywhere in between and fits well into the selections performed by Rattlesnake Hill. When not playing music, John enjoys sailing, building satellites, and earns money by working in aerospace. The banjo played by John is an unmodified 1994 Gibson Earl Scruggs model, with the head tuned to an Ab.