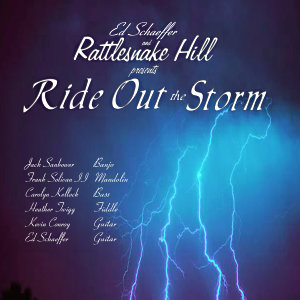 Ride Out the Storm, the latest album from Rattlesnake Hill, featuring the last work of Rebel Banjo Picker Jack Sanbower, who passed on July 29, 2008, after a battle with cancer. Rest in Peace our friend!
Rattlesnake Hill is an exciting bluegrass band featuring Ed Schaeffer on lead vocals and guitar, John Bruce on the 5-string Gibson Bowtie banjo, Barb Diederich on standup acoustic bass, and Rick Shryock on fiddle.
We perform traditional bluegrass with a contemporary flair and blend instrumental work with vocal harmonies. Our repertoire includes traditional bluegrass, with an accent on interesting older material not generally played. We also add songs from the golden era of country music, and include originals penned by Ed (and others). All material is played with traditional acoustic instruments, amplified for performance, but never electrified. We have a treasure-trove of songs across the bluegrass spectrum, and appeal to the most discriminating audience.
Rattlesnake Hill was a regular cast member on the "Appalachian Jubilee" live country show and syndicated radio program for six years, and has produced eight albums, including 19th Century Man, Carl Nelson with Rattlesnake Hill and Live at Cactus Flats on Fathers Day.
Our performances are warm and audience centered, but also high-energy, making us one of the more popular bluegrass bands within the Baltimore-Washington-Frederick triangle.
Rattlesnake Hill is available for club dates, concerts, festivals, corporate events, community shows, weddings (yes!) and private parties. Allow us to help make your event a success!
Visit us also at: http://www.myspace.com/rattlesnakehill