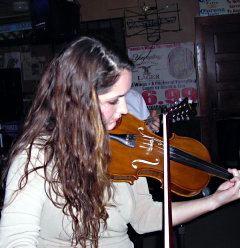 Heather Twigg Fiddle and Vocals

Heather Twigg was born in Baltimore, Maryland, in 1985 and raised in Howard County. She has been playing fiddle since the age of 7, and has studied music in the Howard County School music programs. Heather is influenced by her father and uncle, whose band, The Twigg Brothers, earned respect as an award-winning bluegrass fixture in the Maryland area throughout the 80s. Along with her exemplary fiddle and vocal talents, Heather played trumpet for 8 years as a member of the River Hill High School's Marching Band, Wind Ensemble, Jazz Lab, Symphonic Band, Orchestra, Full Orchestra, and The River Hillbillies. Some of her influences include: Rhonda Vincent, Cia Cherryholmes, Alison Krauss, Nate Leath, Andy Leftwich, and Jim Van Cleve.

Currently, Heather supplements her music career by working for a landscape architecture firm in Baltimore. In her spare time, she loves Harleys, spends time with her friends and family, and jams every chance she gets. She has 4 sisters and a brother.
Heather is a seriously talented vocalist and fiddler, having held her own on stage with Valerie Smith and other fine bands. Heather has a classic bluegrass/country voice, as well as perfect intonation, a great work ethic, and a memory for melody that's astounding. — Kip Martin