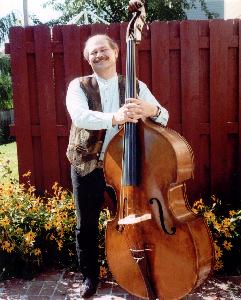 J.B. Hittle Acoustic Bass

Originally from Woodbury County, Iowa, Jon B. "J.B." Hittle is the grandson of old-time fiddler and square dance caller Al Hittle, who performed with Bob Wills & The Texas Playboys and with Spade Cooley in the 1940s — so country music is in J.B.'s blood! He has been playing American roots music — Blues, Jazz and Bluegrass — for more than 30 years with artists across the country.

His first Bluegrass exposure was in Louisiana playing with Hereford Percy, Doug O'Connor, Jeff Vangen and Ben Williams in the early 1970s. He subsequently backed the late, legendary Delta Blues harpist Moses "Whispering" Smith and has shared the stage with noted jazz and blues artists such as Larry Eanet, Palmer Johnson, Harold Slaughter, Clarence Kenner, Ellsworth Gibson, Georgene Fountain, Jay Summerour and Roger Neumann.

J.B. played bass for Bluegrass pioneer and mandolin wizard Frank Wakefield in the early 1990s, playing many venues including performances for radio station WAMC in Albany, New York. J.B. had the pleasure of sharing the stage in Frank's band with the outstanding flatpicking guitar genius Mark Patton and the superb 5-string banjoist Joey Deetz. He helped produce Wakefield's best-selling 1997 CD That Was 1Now. . . This Is Then! on the Rosewood label and he also wrote the liner notes for that album.

Closer to home, J.B. has performed with many fine Washington DC / Baltimore area bluegrass artists, including Bill Rouse, Joel Fox, Bob Wilkerson, Franny Davidson, Mark Delaney, John Brunshwyler, Danny Haller, Merle Johnson, Ron Webb, Carl Nelson, Tad Marks, Brian Dorothy, Nate Leath, Mark Baker and Joe "Jake" Jacobs. J.B. was also a past member of local Bluegrass bands Bob Scott and Stoneridge, and Gary Cooper and High Noon. J.B.'s favorite bluegrass bassists are Tom Morgan, Tom Gray, Gene Libea, Missy Raines and George Shuffler.

In addition to performing music, J.B. is a freelance writer and has published many stories about musicians and the musical path he has travelled for more than 30 years.