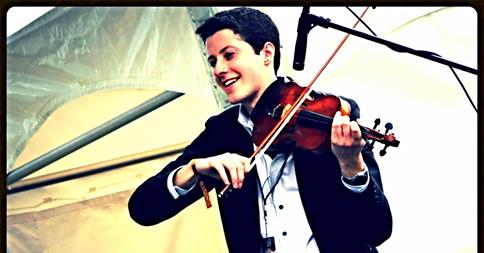 Patrick McAvinue
Fiddle
It was at the age of seven when a friend introduced Patrick to the violin. In view of his talents, his parents took him to private lessons. The three years he was classically trained during school helped him for when at the age of ten Amy Hopkins, a Peabody graduate, began teaching him fiddle tunes that came from all over the world. He then went on to take lessons from Troy Engle, a multi-instrumentalist who has performed with Patty Loveless, Buddy Jewel, Oak Ridge Boys, and The Issacs.
Patrick has participated in many fiddle competitions and was even honored with the title of Delaware State Fiddle Champion repeatedly from 2003-2005. He has also been a Candidate for International Bluegrass Music Associationís Fiddle Player of Year for 2009, 2010 and 2012.
In his professional career, in addition to Rattlesnake Hill, Patrick has performed and recorded with many notable Bluegrass and Country musicians such as Marty Stuart, JD Crowe, Paul Williams, Bobby Osborne, Del and Ronnie McCoury, Michael Cleveland, Mike Auldridge, Mark Schatz, and Jazz/Free Improvisation musicians Ellery Eskelin and Gerald Cleaver.
Music has taken him all over the world. As a member of the Bluegrass Super-group Audie Blaylock and Redline, he has toured the all over the United States, Germany, Norway, France, Czech Republic, Holland and Australia. He is also featured on all of the groupís recordings, which have received high accolades throughout the Bluegrass/Country world.
In May of 2011, Patrick received a BM in Jazz Performance from Towson University, where he studied under the direction of renowned pianist Tim Murphy, trumpeter David Ballou and violinist Dr. Jeffrey Howard. Currently, Patrick resides in Baltimore, MD where he is a private music educator, teaching children and adults alike.